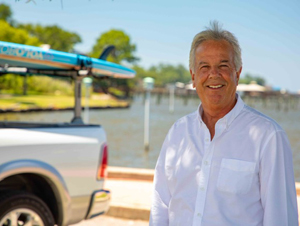 John Manelos
Executive Director
Clean Water Alabama
In 2012, John retired from corporate life and moved to Fairhope launching Fairhope Paddleboard as a way of introducing others to a pastime for enjoying our beautiful waterways. Concerned about the harmful impact of pollution on Mobile Bay and surrounding estuaries, he served as a volunteer member with the Coastal Wildlife Rescue and Research Center,  rescuing migratory and protected coastal birds within Baldwin County. He has been an outspoken advocate for the need to protect the waterways in Alabama's fastest growing region. He is a founding member and past president of Clean Water Alabama.
John O'Melveny Woods
President
Clean Water Alabama
Mr. Woods has been writing screenplays, television shows and books since attending the University of Southern California's School of Cinematic Arts in the early 1990's. John is past President of two major corporations; the last being a major print brokering company with facilities located in the Philippines. He founded indieTV in 1997 (www.indietv.com), which has been a pioneer in interactive television with such partners as Microsoft Corporation. He has written seven books and various articles for newspapers and magazines. John lends his talents as a volunteer in the community helping others develop their writing and creative skills. As a child of the sixties, he believes strongly in preserving the environment, with specific emphasis on the water he grew up in learning to surf.
Coach Wayne Miller
Vice President
Clean Water Alabama
Coach Wayne Miller, retired since 2009, taught middle school history for 32 years in Dunlap School District in Central Illinois.  Dunlap is recognized as one of the top school districts in the United States. He also coached 43 seasons of high school varsity soccer. Coach and his wife Martha Jo raised four children and have nine grandchildren. Coach wrote Clean Water Alabama Coloring Book for grade schoolers and Clean Water Alabama Activity book for middle school students using wonderful illustrations from Coastal Alabama graduate Grace Caroline Roberts.
Lucinda Briggs Nunnally
Secretary
Clean Water Alabama
Having sold real estate on the Eastern Shore for over 25 years, I've learned our beautiful bay, beaches, and rivers is one of most sought after and valuable resources.  I want to preserve that for my children, grandchildren, and the generations to come.
James Michael Dudley
Treasurer
Clean Water Alabama
Mike Dudley is a retired CPA whose career took him across the globe working for The Cornelius Company, a worldwide manufacturer of soft drink and beer dispensing equipment, as well as Worthington Tractor Parts, a chain of salvage yards for self-propelled farm machinery. He and his wife, Kathleen, moved to Fairhope from Missouri in 2008, where he was a volunteer at his church, the Missouri Botanical Gardens and the Missouri Historical Society, and also involved in local politics. Mike's concern for the issues involving Mobile Bay and the adjoining rivers, streams, and bays is what led him to join CWA.
Deborah Bruijn
Clean Water Alabama
Born in Indonesia to Italian parents, Deborah Bruijn immigrated to the US as a child.  She is a chemist, soapmaker, mother of two and owner of Fairhope Soap Company, LLC.  She has a BS in Chemistry and has worked as a Biochemist and a GMP Analytical Method Development Chemist in the pharmaceutical industry for 10 years.  Deborah quit the lab and now soaps full time doing the only legal "work from home" job a chemist can do.  She is a Handcrafted Soap and Cosmetics Guild Certified Advanced Soapmaker and a member of the Society of Cosmetic Chemists.  She speaks, teaching the chemistry of Soapmaking and Cosmetic Chemistry, to handcrafters at conferences all around the country.  She founded Fairhope Soap Company 9 years ago in Fairhope, Alabama and now has two brick-and-mortar shops in Baldwin County, in addition to its online store.  Active in the community, Deborah served as chairwoman of the Baldwin County Libertarian Party, and is a Paul Harris Fellow with Rotary International.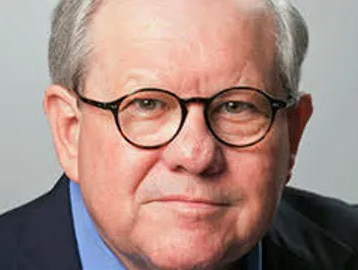 Dr. Faron L. Hollinger
Clean Water Alabama
Dr. Faron Hollinger served the Baldwin County Public School System as a teacher, school psychologist, supervisor, coordinator, and division superintendent from 1976 to 2000. He left Baldwin County to serve as Superintendent of Education for the Jasper City School System from 2000 to 2002 before returning to Baldwin County where he served as Superintendent of Education from 2002 to 2010.
Grace Roberts
Clean Water Alabama
My name is Grace Roberts and I'm an illustrator and 3D artist from Mobile, Alabama. I recently graduated from Coastal Alabama Community College with an Associates Degree in Animation, Interactive Technology, Video Graphics, and Visual Effects. My true passion is art, and having this opportunity to help educate and explain the importance of protecting our environment is an honor.
Gary Finch
Clean Water Alabama
Gary Finch is a professional outdoorsman and conservationist from Fairhope, Alabama. He has been the host of the syndicated outdoor program "Gary Finch Outdoors," for over 32 years and can be seen weekly on WKRG TV 5, in Mobile, AL and Pensacola, FL and WSFA TV 12,in Montgomery, AL, as well as regional cable stations. He is a founding producer of the Outdoor Channel. Finch's background as an Eagle Scout and a Veteran pilot instilled, at an early age, the importance of long term planning to ensure that we continue to preserve our natural resources. He was honored to get to fly with the Navy's Blue Angels and has appeared on NBC's Today Show, educating the public on the Gulf of Mexico.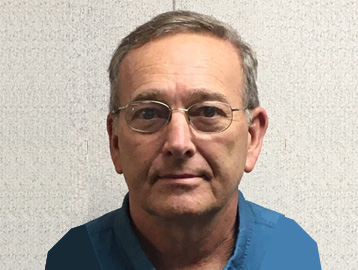 Richard Peterson
Clean Water Alabama
Richard is an avid canoeist who has paddled rivers and creeks across the State of Alabama and in all of our neighboring states. Richard's experience on the water and his career in water and wastewater utilities have fueled his passion for water quality improvement. "We owe clean water to ourselves and to the generations that will inherit the world we leave. This is a responsibility we should all embrace."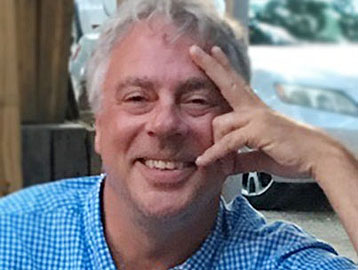 Charles Davis
Clean Water Alabama
Charles moved to Fairhope, Alabama, in 2001 from Nashville, Tennessee.
He is owner of Charles Hudson Davis Media specializing in branding, marketing and creative Writing. Charles is currently working with CWA to develop its branding to ensure this organization stands out as a leader in making Alabama's waters cleaner. His passion for our very own Mobile Bay goes back to when he first arrived on our Gulf Coast as a fisherman and love of the beautiful wildlife.
Teddy Faust
Clean Water Alabama
Teddy J. Faust, Jr.  was elected as Baldwin County Revenue Commissioner in 2008, with an effective term beginning October 1, 2009.  He received the Alabama Certified Tax Administrator designation in 2013.  Faust is a lifelong resident of Baldwin County.  He graduated from Fairhope High School and received his Bachelor of Science Degree in Finance from the University of South Alabama.  Before being elected as Baldwin County 's Revenue Commissioner, he served as a Certified Real Estate Appraiser with R. L. Farmer & Co. for 15 years.  Teddy has been a Fairhope Rotarian since 2002 and was named Paul Harris Fellow by The Rotary Foundation of Rotary International in 2006.  He served as President of the Fairhope Sunset Rotary Club from 2013 to 2014.   Teddy served as President of the Association of Alabama Tax Administrators (AATA), from 2018 to 2019. While president of AATA he was instrumental in forming the Alabama Chapter of the International Association of Assessing Officers (IAAO).  He began his third six-year term as Baldwin County Revenue Commissioner in February of 2021. Teddy and his wife Jennifer have one daughter (Elizabeth Rebecca).
Jennifer Foutch
Clean Water Alabama
A love of water at an early age led Jennifer Foutch to her first job as a Lifeguard and Swim Instructor at her local municipal swimming pool.  From there she took a turn to the justice system, spending summers clerking at her local courthouse.  She graduated from Southern Illinois University with a Bachelor in Administration of Justice, then went on to earn her Juris Doctorate degree from Southern Illinois University School of Law.  Jennifer worked as the Assistant State's Attorney for Perry County Illinois, and later served as the Public Defender for Perry County.  After spending over 18 years handling criminal cases in Illinois, Jennifer and her family re-located to Fairhope, Alabama.  Jennifer currently serves as the Association Executive Officer for the Baldwin Realtors Association.  Passionate about the protection of our water and natural environment, she also serves as a member of the City of Fairhope Environmental Advisory Board.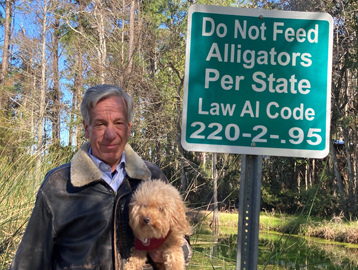 Andy Parvin
Clean Water Alabama
Andy, Joni and Rusty moved to Fairhope in March of 2020 from Eclectic, AL where they own a home on pristine Lake Martin.  "Until we moved here, I didn't realize the unique natural treasure we had right at our doorstep in Mobile Bay, home to such a wide array of plant, animal and aquatic species.  I knew I had to get involved in efforts to restore the bay and was impressed with Clean Water Alabama because collaboration and mutual respect are the guiding principles of the organization.  With this approach, all parties are encouraged to work hard and share in the benefits of successful outcomes.
Joe Faust
Clean Water Alabama
Joe Faust served the citizens of District 94 in the Alabama House of Representatives from 2004 to 2022. He sat on the Transportation, Utilities and Infrastructure Committee, the Agriculture and Forestry Committee, and the Baldwin County Legislation Committee. Faust is a graduate of the Marietta Johnson School of Organic Education in Fairhope and also attended then Faulkner Community College — now Coastal Alabama Community College —where he studied business. Joe is a veteran of the Alabama National Guard. He is a member and regularly attends First Baptist Church of Fairhope. Joe and his wife, Sharon, live in Fairhope. He is a founding member and active participant in Clean Water Alabama.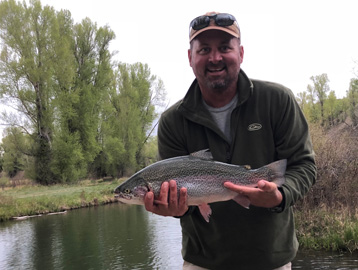 David Smart
Clean Water Alabama
David Smart is co-owner of Streamline Environmental. His Magnolia Springs, Al. based company is involved with stream and river restoration throughout the Southeast, with a focus on erosion control as well as the creation of habitats for fish and other wildlife. David is an avid outdoorsman with a passion for making a positive difference for the environment. His company is a major sponsor of Clean Water Alabama.
Shannon Hesse
Clean Water Alabama
Shannon attended Fairhope High School, then graduated from the University of Alabama with a major in Advertising and a Marketing minor. After a successful career in pharmaceutical and advertising sales, Shannon made her dream of selling real estate come true in 2012.  Shannon is a graduate of the 2018 Alabama Association of Realtors Leadership class, a 2019 AAR Professionalism Trustee and serves on the 2019-20 AAR Board of Directors. She was a nominee for Realtor of the Year in 2017 & 2019 and was recently reelected to the 2021 AAR Board of Directors.  Shannon is a passionate advocate for homeless, neglected and abused animals. She is instrumental in the annual production of the Mystic Mutts of Revelry parade that benefits the Haven for Animals each year and is serving as Chairperson for the 2019, 20 & 22 Mystic Mutts of Revelry parade, the Haven's largest fundraiser of the year. Shannon was appointed by County Commissioner Billy Jo Underwood to the Baldwin County Animal Advisory Board that advises the Baldwin County Commission regarding the county animal shelter. Shannon is a proud member of the 2022 Leadership Baldwin County class, and new Clean Water Alabama board member. Shannon and her family are members of Fairhope United Methodist Church, where she is involved in youth missions and is the 2019 & 2020 Stewardship chairperson and 2018 co-chair of the Stewardship Committee. Shannon has twin daughters that attend Mississippi State University. Rescue dogs Weezie, Drake and new puppy CiCi round out the Hesse family.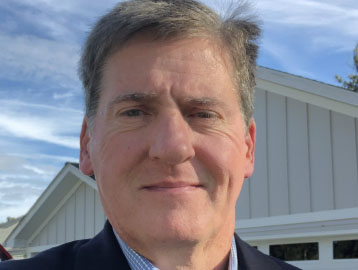 Dr. Penn White
Clean Water Alabama
Dr. Penn White retired to Fairhope with his physician wife in 2021 after practicing Gastroenterology for 27 years. He is an artist and novelist, and active Executive coach. He has been a passionate outdoorsman his whole life, enjoying fishing, camping, hiking, kayaking, and sailing. He joined Clean Water Alabama and is motivated to help preserve the Baldwin County waterways through education for future generations.